Century Landscaping Co., Inc.'s Design Process
We provide functional plans and breathtaking designs for new homesite developments and renovations of existing landscapes. We will build, design and enhance your custom landscaping to meet your needs. At Century Landscaping our design process is very thorough and comprehensive, we customize it to your desires and our goal is to exceed your expectations. We want to gather as much input from you as possible so that we can provide you with a final plan that encompasses your needs… your vision, your lifestyle and your budget.
1. Client Consultation
The purpose of our first meeting with you is to determine your short and long-term goals. We are looking for your input about favorite plants, what type of hardscaping materials you would like to use (brick, stone, masonry) and landscape features you would like to see (arbors, water features, fire pits/fireplaces etc.). We would also like to know what type of outdoor activities you and your family enjoy and how you would like to use your new space.
2. Site Analysis & Evaluation
During the site analysis we visit your home and take the necessary measurements of the house and yard to accurately locate all the existing features that will affect the planning of your new landscape.
3. Conceptual Design
This is the phase of the planning process where pencil meets paper. Your information and our expertise are put together to develop a custom plan to suit your lifestyle. The site planning will include the layout of patios, walks, planting beds and plantings, driveways (if necessary), and activity centers if applicable.
4. Conceptual & Preliminary Design
This meeting will take place at your home. This is the first draft of your plan. We will discuss the hardscape material choices (brick, stone, masonry etc.), plant selection, and how the various spaces in the landscape relate to each other and your lifestyle. We will discuss the various cost estimates related to each phase of installation. Your input is invaluable during this phase.
5. Client Presentation & Revisions
Plans are revised and final costs of construction are estimated with a final review of the plans. We will also discuss the pricing and timing of the implementation of your new landscape.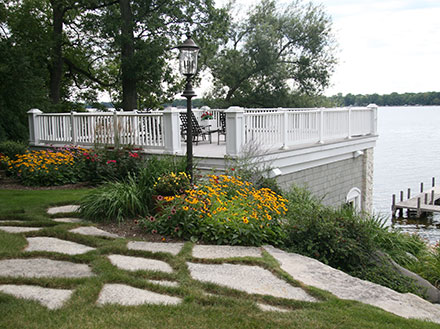 Testimonial
"John and Carl, Thank you for the wonderful job! You and you're crew have been an absolute pleasure to work with & you do a great job. Thanks again!"