Century Landscaping Co., Inc.'s Services
Century Landscaping Co., Inc. offers a complete range of installation services. Our experienced crews are capable of installing anything you can imagine; from brick patios to bluestone courtyards; from an outdoor kitchen to the soothing babble of a waterfall and pond. Our quality and craftsmanship are second to none. Our design team and installation crews will work closely with you to develop and install a landscape that will satisfy your aesthetic and functional needs.
CLAY BRICK AND STONE PAVING
Patios and walks constructed with clay brick and natural stone paving are very durable, easy to maintain and distinctly beautiful. The range of colors, patterns and combinations of materials available for paving are almost endless and unlike manufactured materials, the colors of natural materials will not fade or change with time. At Century Landscaping Co., Inc. we specialize in brick and stone paving. Our installation standards for bluestone, brick or natural stone, will provide you with a patio or walk that will insure you years of service and satisfaction and a stunning look that only natural materials can offer.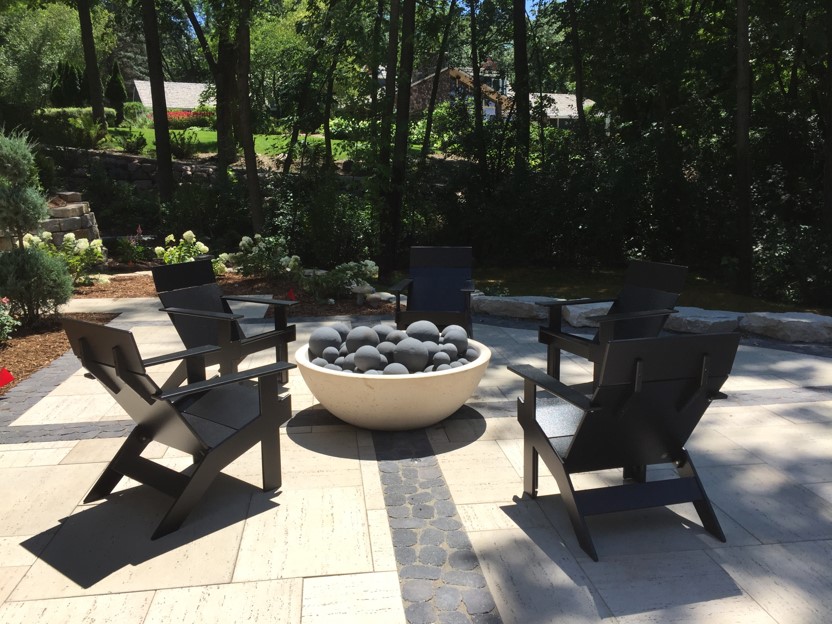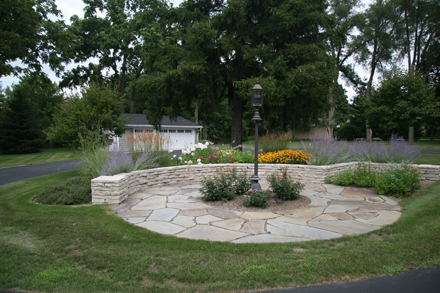 RETAINING WALLS & SEAT WALLS
There is a large choice of materials available for dry laid retaining walls and seat walls. Dry laid retaining walls are typically built of natural stone (lannon stone, fieldstone etc.) or manufactured block. Again, like brick paving, the key to a successful retaining wall or seat wall is in the construction technique. All of the retaining walls we build (except fieldstone) are set on a compacted gravel base and are then backfilled with clear gravel and drain tile for proper drainage. Proper drainage behind a retaining wall is critical to the life of a retaining wall. We will help you design a wall system, for your home, that will complement the color of your home and hardscape.
The planting plan for your new home or renovated landscape will bring your home and hardscaping to life. We will listen to you regarding your favorite plants and colors and the time you are willing to spend taking care of your new plants. We also consider the site, soil conditions, and the mature size of the plants as we develop your planting plan. Our goal is to provide a palette of trees, shrubs and perennials that will provide year round interest and color for you and your family.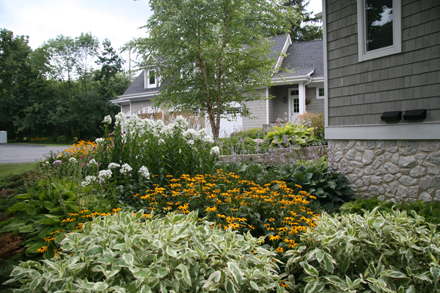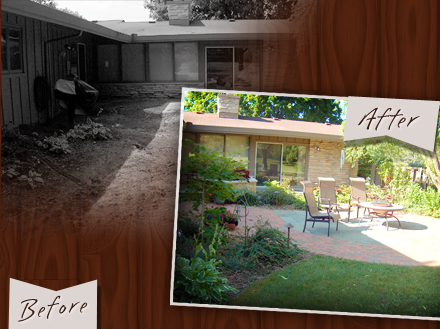 Our design team emphasizes thoughtful planning and quality construction when renovating the landscape of an existing home. The key to a successful renovation is to integrate dynamic new design elements while maintaining the integrity of your existing home's style and architecture. Our goal is to provide you with a new landscape that you and your family will enjoy while enhancing the beauty and value of your existing home.
At Century Landscaping Co., Inc., we know site planning is an important step in developing a landscape for your new home. The appropriate layout of your site, including grading, drives, walks, patios, activity spaces, planting beds and plants, are key elements of creating a landscape which will embrace your home and lifestyle. Careful consideration will be given to the selection of materials, for example brick for patios, stone for retaining walls and plants for all season interest, so your finished landscape will be in harmony with your new home and meet your aesthetic and functional needs.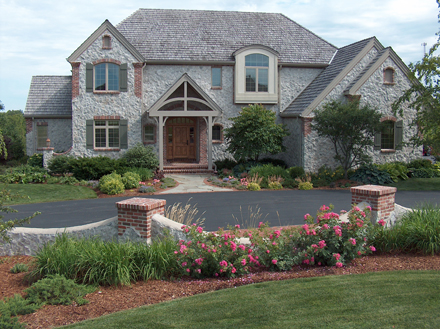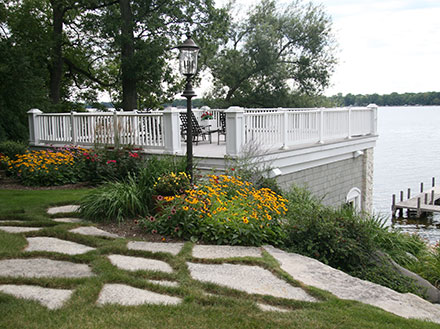 We can help you extend your indoor living space into the outdoors so you may take full advantage of your yard. Today, with all of the components available, we can help you create outdoor kitchens, fire places, fire rings, spa areas and entertainment spaces for your family and friends. Anything you can imagine, we can design and provide for you.
There are many ways to introduce the sound of water into your new landscape. We can provide you with something as simple as a decorative bubbling urn to a large re-circulating Koi pond and waterfall. The scope of the water feature will be determined by the amount of care you want to provide. One of the most popular water features we install today are the 'Pondless Waterfalls'. These are very low maintenance water features that still provide you with the soothing sound and sight of water.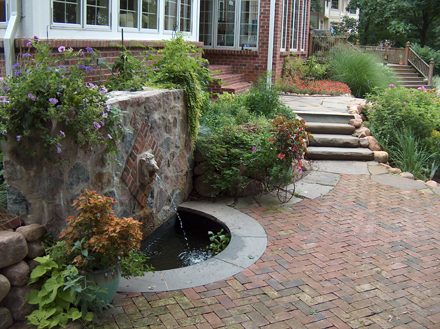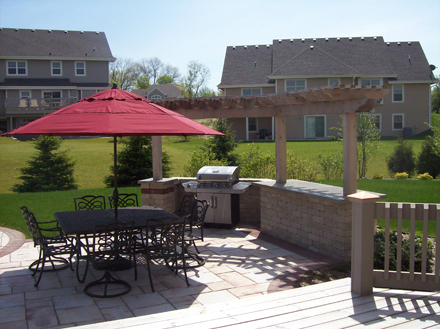 The addition of a Pergola or Arbor can truly finish an outdoor room. Garden structures can add a sense of dimension and intimacy to your outdoor space. Wood structures can be stained, painted or allowed to naturally age. Vines and climbing roses may be planted to heighten the effect of your new structure. We also can provide garden benches, decks and decorative fencing for your home. All of our structures are custom designed for your site.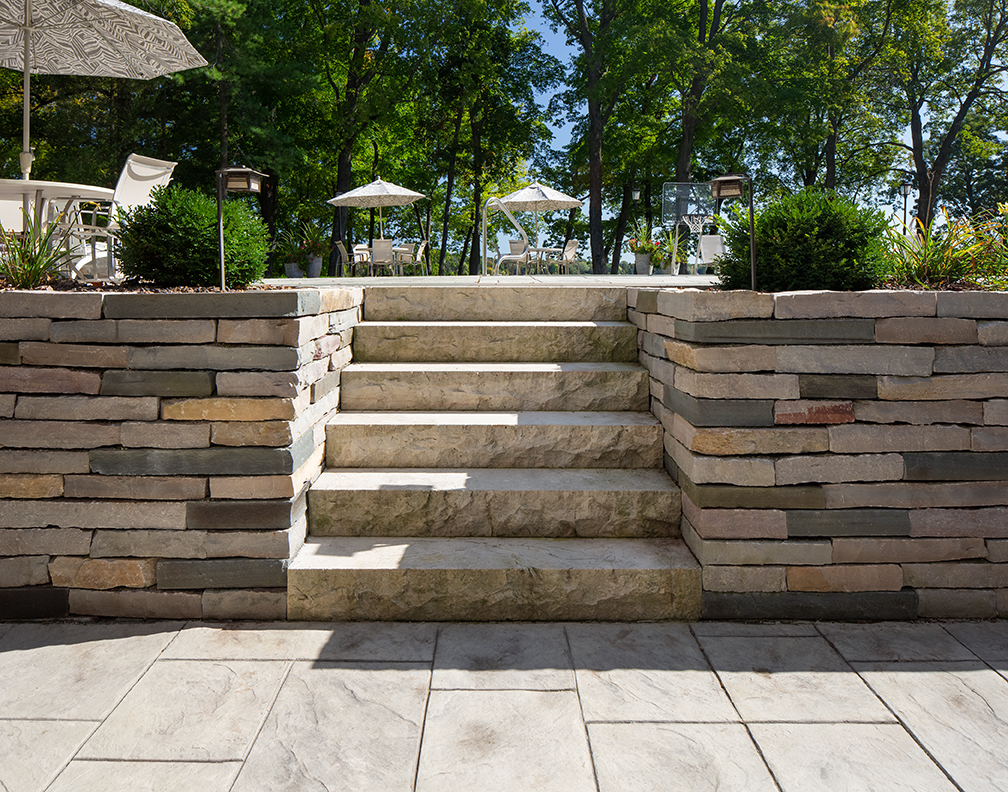 Testimonial
"John and Carl, Thank you for the wonderful job! You and you're crew have been an absolute pleasure to work with & you do a great job. Thanks again!"